Tips for Choosing the Right Live Streaming Platform for Your Needs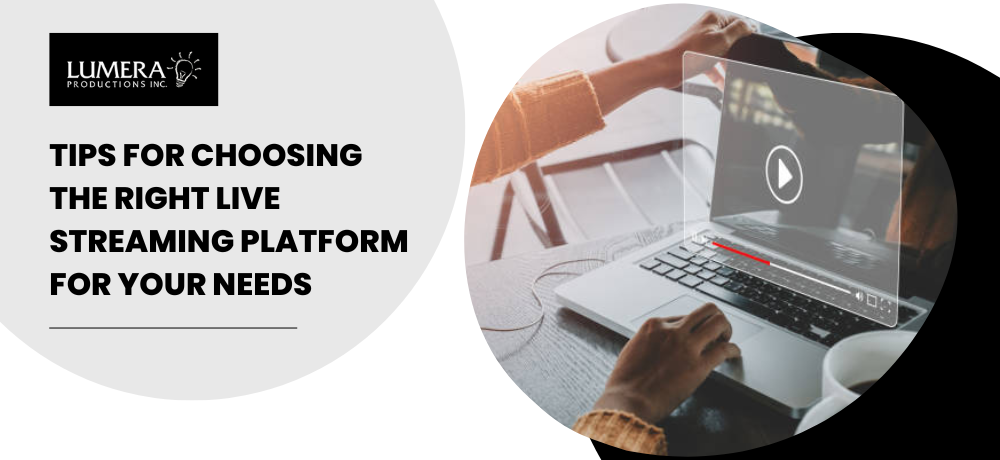 In today's fast-paced digital world, live streaming is no longer a novelty but a necessity. Gone are the days when businesses had to rely solely on physical events to connect with their audiences. Live streaming has revolutionized the way businesses reach out to their customers and has become the go-to marketing tool for companies looking to expand their reach. We at Lumera Productions Inc, from planning to carrying out the event, our team will work with you at every step to ensure it goes well. We'll help you reach your goals and make sure your broadcast is a good representation of your organization while staying within your budget.
In this blog post, we'll take a closer look at some tips that can help you select the perfect live streaming platform that meets your needs and expectations.

Determine your goals and audience
Before you start choosing a live streaming platform, you need to determine your goals and audience. Are you streaming a one-off event, or do you plan to hold regular live streams? Who is your target audience and what platforms do they use to consume content? Understanding your goals and audience is crucial in selecting the right platform. For instance, if you plan to target a younger audience, you may want to choose a platform like TikTok or Instagram, whereas if you are targeting professionals, LinkedIn may be a better fit.
Consider the features you need
The features available on each live streaming platform vary, and it's essential to consider the features you require. Some platforms offer more advanced options like multi-camera support, screen sharing, and virtual backgrounds, while others are more basic. Depending on your needs, you may want to choose a more advanced platform or a basic one. Also, consider the size of your audience and whether the platform can support that audience size.
Look at the pricing options
Live streaming platforms come with different pricing models, and it's essential to choose one that fits within your budget. Some platforms offer free versions, while others charge a fee. Paid versions typically offer more features and support and are more suitable for businesses or individuals that have larger audiences.
Research platform reliability and support
The live streaming experience can be ruined if the platform is not reliable or suffers from technical issues. Before making a final decision, research the platform's reliability, and look for any reviews that mention technical problems or other issues. Also, consider the support available when something goes wrong. Does the platform offer adequate support or have a troubleshooting guide?
Check the analytics
Analytics are critical in determining the success of your live stream and can help you make necessary adjustments for future streams. Consider the data that each platform offers and whether it is sufficient for your needs. Some platforms offer better analytics than others, and it's crucial to choose one that provides the data that matters most to you.

Choosing the right live streaming platform can be a game-changer for your business or personal brand. Whether you're a small business owner or an individual looking to build their online presence, incorporating live streams into your marketing strategy can help drive engagement and expand your reach. If you are looking for a live streaming platform, then contact Lumera Productions Inc. Our team has years of experience and a wide range of skills to handle events of any size,including ceremonies, business meetings, festivals, virtual conferences, and more.
Get in touch with us today
To learn more about what we do, please click here. To contact us, please click here or call us at (250) 412-7159
---
---