How to Structure Your Documentary for Maximum Impact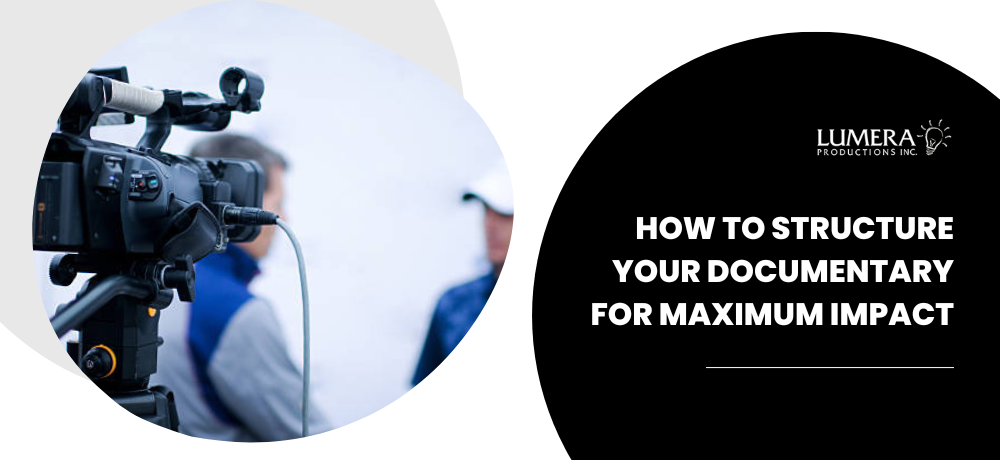 Documentaries have the power to inform, educate, and entertain viewers. With the rise of streaming platforms like Netflix, Hulu, and Amazon Prime, the documentary genre has been experiencing a boom. But with so many documentaries to choose from, how can you make sure your film stands out? The answer lies in how you structure your documentary.
In this post, we'll go over the key elements of a successful documentary structure and provide tips on how to grab and maintain your audience's attention, while delivering a compelling narrative.

Start with a Hook
The opening of your documentary is the equivalent of the first sentence in a novel. It should grab the audience's attention immediately and keep them watching. A powerful hook could be a striking visual or a compelling soundbite. The hook should also give viewers an idea of what your documentary is about and set the tone for the rest of the film.
Introduce Your Characters
After hooking your audience, it's important to introduce them to your characters. Your audience needs to connect with your characters emotionally to become invested in your story. Develop each character by giving them backstory, a unique personality, and aspirations.
Follow a Narrative
Documentaries can have many different formats, but the best ones always follow a narrative. If you're not sure what your documentary's narrative should be, ask yourself: What story do I want to tell? Maybe your story follows an underdog as they try to achieve their dreams. Perhaps it's a retrospective on a significant historical event that ties into current events. Whatever it is, be sure to have a clear narrative that the audience can follow.
Use Visuals to Enhance Your Storytelling
One of the benefits of a visual medium like documentary filmmaking is that you can show your story and breathe life into it. Use visuals to illustrate your story, make points, or enhance your message. Visuals could include archival footage, photographs, or animation.
End with Impact
The final scene or shot of your documentary should pack a punch. It should leave a lasting impression on your audience and give them something to think about long after the credits roll. A powerful ending could be a montage of memorable moments, an emotional conclusion to a character arc, or a call to action on an important issue.
Documentaries are a powerful storytelling medium that can inform, educate, and entertain audiences. But with so many documentaries to choose from, it's important to structure your film in a way that grabs your audience's attention, keeps them engaged, and leaves a lasting impact.
In addition to documentaries, Lumera Productions Inc also specializes in producing high-quality events and broadcasts. Our team is dedicated to working closely with you at every stage, ensuring a seamless and successful production. With our expertise in event planning and execution, we can help you create memorable experiences that resonate with your audience and accurately represent your organization, all within your budget. Contact us today to explore the possibilities.
Get in touch with us today
To learn more about what we do, please click here. To contact us, please click here or call us at (250) 412-7159

---
---