Frequently Asked Questions About Commercial Video Production and Livestream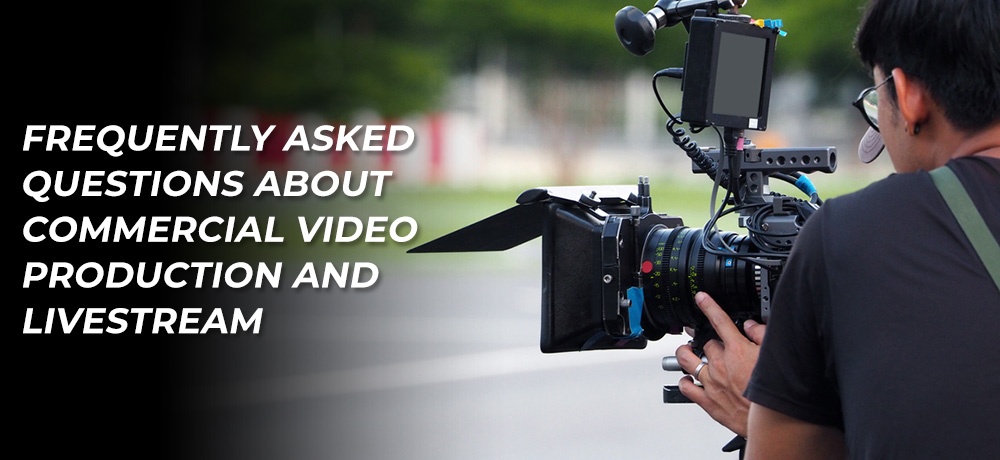 If you're looking to captivate your audience, video production and live streams are bound to get your products and services attention. However, if it is your first time using these marketing options, you may have a ton of questions and find answers difficult to come by. To help you out, Lumera Productions Inc. wants to arm you with the most accurate information available and to do this, we've answered some of the most frequently asked questions about commercial video production and livestream.
1. How do we know which platform we should stream to?
There are no wrong answers to this question. Some platforms do have drawbacks, but the correct response is answered by asking the question, "Where is your audience?" If most of your subscribers are on Facebook, then that is most likely the platform to use for your event. Likewise, with Youtube or embedded videos on your own website. Our experts at Lumera Productions, can offer many customized solutions according to your needs.
2. Is there a limit to the number of viewers we can have?
The simple answer to this question is, "no, there is no limit." A live stream can be viewed by one to twenty-thousand people and does not affect the quality of the viewing.
3. How long does a commercial video take to produce?
Some projects can take a few days, while other projects can take several months. It really depends on the size and scope of your project. There are generally three phases of production; Pre-Production, Production, and Post-Production. We always aim to deliver a project in the shortest reasonable time. Our experts can usually answer this question during your initial consultation and Pre-Production planning.
4. What kind of budget should we have for a commercial video?
Your budget will depend on the size of your project and the tools required to execute your project. This makes it difficult to give a general budget as they can range from two thousand to over a hundred thousand. It is best to consult with us to determine the best and most cost-efficient way to produce your project.
5. How much lead time do we need to get our project started?
This depends on the size of the project. If you are planning a project with many ideas and interconnecting aspects, it will require more planning. For example, are there any licenses or permits that need to be applied for? We would love to jump in, but in reality, the more planning you do greatly increases your chance of success! At Lumera Productions, we can help you determine what kind of prep work is needed for your commercial or live production.
6. Should we be using a drone?
While drones are increasing in popularity and areal video is a service Lumera Production provides, they are not the best solution in every circumstance. There are other options to get shots appropriate for your project that can navigate the possible pitfalls of having a drone on site. Many people are unaware that there are certain restrictions on flying drones (even with licensed operators) and so they are not always allowed to be used. You can contact Lumera Productions, and we can help you determine if a drone is a good option for your project given the requirement and the location of the shoot.
If you have any more questions about commercial video production and live streaming, get in touch with the experts at Lumera Productions Inc. We are an experienced video production company in Victoria, British Columbia. We specialize in crafting captivating films, commercials, corporate videos, live stream and broadcast services. Over the past ten years, we have been providing clients high performing content with transparency, passion and care. Our team has expertise in diverse fields and work together seamlessly to produce the quality project clients are looking for.
To learn more about how we can help you, please click here or contact us by clicking here.
---
---